Food
12 Sinful Desserts For The Lazy Bones In You
Published: May 25, 2015
If you have a sweet tooth, but not a whole lot of time or motivation, then we've got the solution for you. Whether it's for a party of one, five, or twenty, here's a list that caters to all your needs, giving you desserts that don't need more than 10 minutes preparation time.
Nutella Chocolate Chip Cookies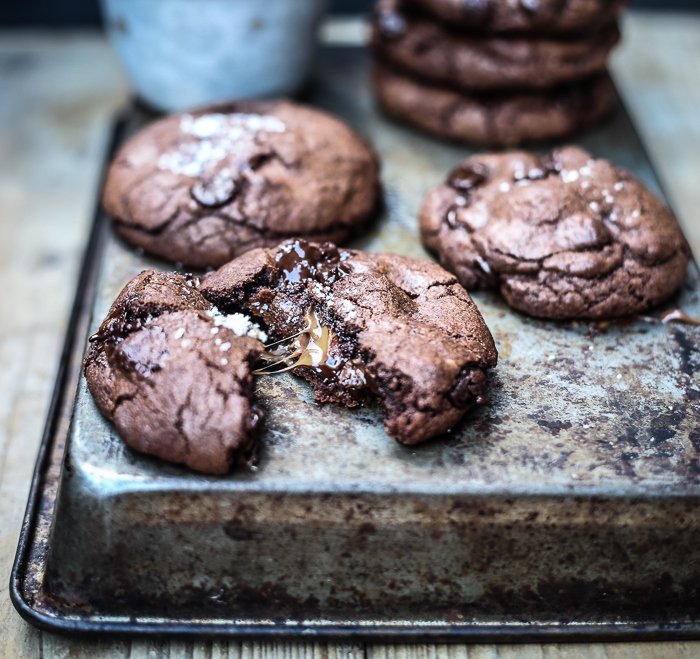 Set your oven to preheat at 350 degrees Fahrenheit. Take 1/2 a cup of flour, 1 large egg, 2 tablespoons sugar, and 2 tablespoons of Nutella (or more). Mix all of the ingredients together and stir in half a cup of chocolate chips until evenly distributed. Drop the dough by the spoonful on a cookie sheet or a greased bowl, about 2 inches apart and bake for about 8-10 minutes. Eat with ice cream, or on its own.
Pineapple Cake Sundae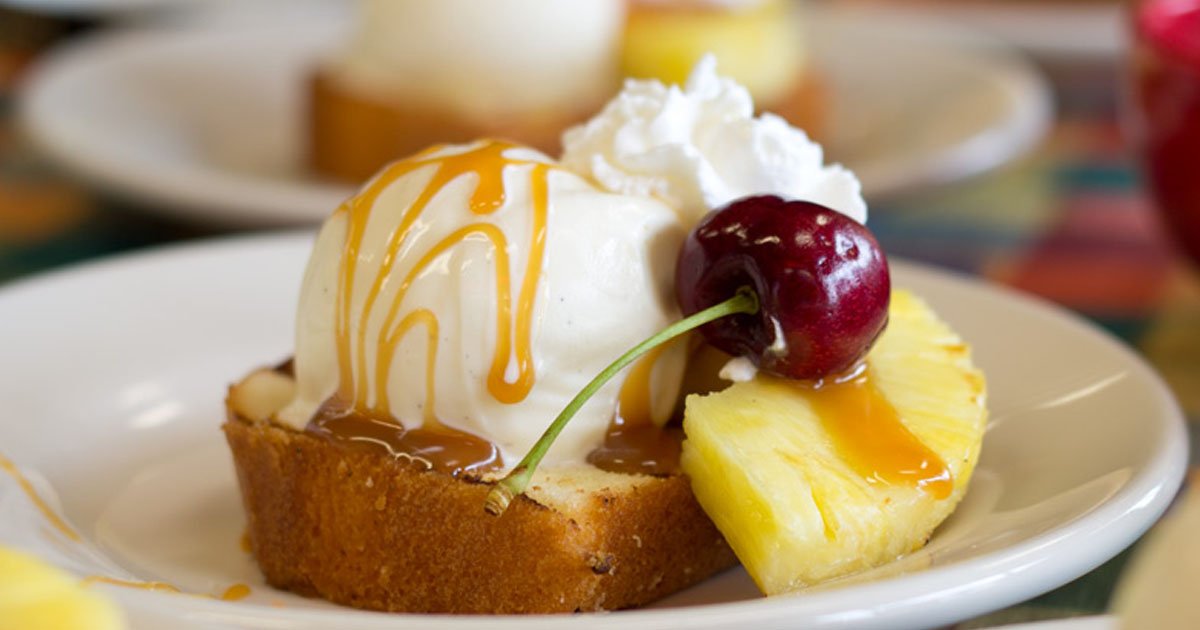 In a heavy skillet, melt 1/4 cup butter over a medium flame. Stir in 1/4 cup sugar, 1 tablespoon honey and a pinch of ground cinnamon. Once it starts to boil, reduce the heat and simmer for 2 minutes, uncovered. Add 1 cup chopped pineapple and cook, while stirring for 2 minutes or until heated through. Remove from heat. Scoop ice cream into 4 dishes, top with some crumbled store bought cake and the warm pineapple mixture. You can add whipped cream and a cherry, if you want.
Marbled Chocolate Pots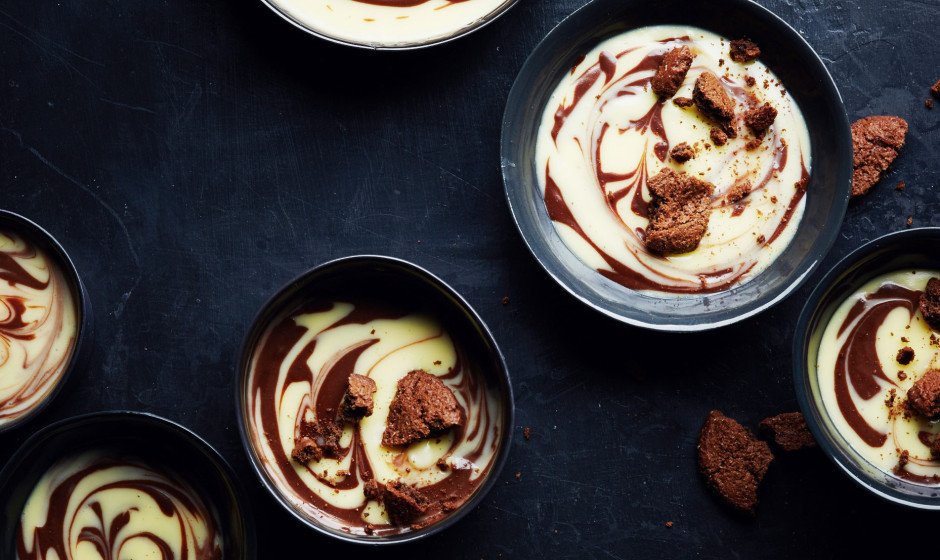 Take 1 and a 1/2 cups of full fat cream, add 1 cup of icing sugar, and whisk till soft peaks have formed. Break a 100 gm bar of chocolate into little pieces and melt it in a double boiler or a microwave, and slowly stir into the cream mixture, folding with a spoon to create a marbled effect. Spoon into dessert glasses and chill for 3-4 hours. Top with ice cream, whipped cream, or strawberries.
Strawberry Crumble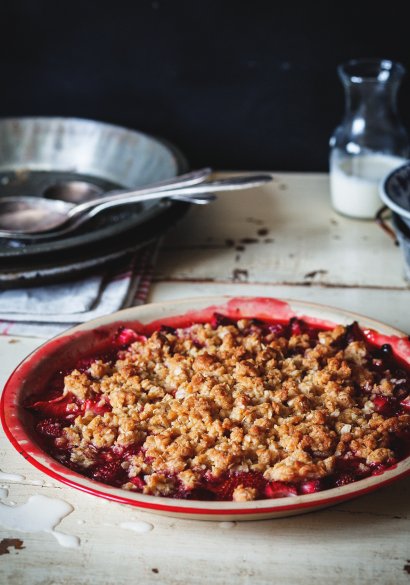 Preheat the oven to 350-400 degrees Fahrenheit. In a bowl, mix together 1 and 1/2 cups of strawberries, segments from 1 orange, and the juice and zest of 1 orange. In a separate bowl, rub together, using your fingertips, 1/2 cup or 100gms of softened butter, 2/3 cup caster sugar, and 1 cup flour, till they resemble fine breadcrumbs. Put the fruit mixture in 1 large dish, and top with the crumble mixture. Bake for 12-15 minutes until golden. Serve warm, on its own or with ice cream or custard.
Chocolate Kisses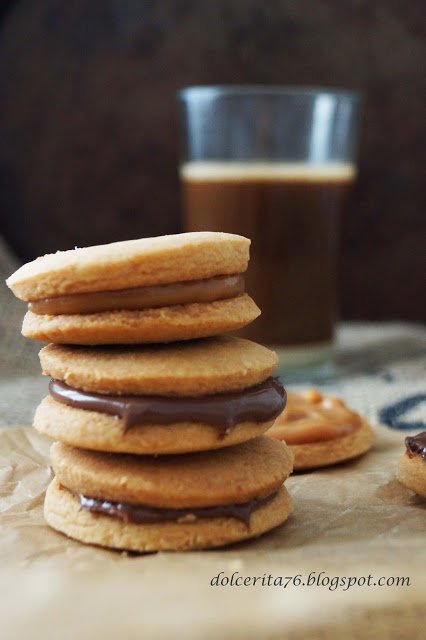 Cream 100gms butter with 300gms or 1 and 1/2 cups of caster sugar and beat in 1/2 a cup oil and a teaspoon of vanilla extract. Fold in 1 and 1/2 cups of flour, 1 teaspoon baking powder and 2/3 cup cocoa. Roll the mixture into small balls and bake at 300 degrees Fahrenheit for 20 minutes. Sandwich together using Nutella, or any chocolate spread of your choice.
Bananas Foster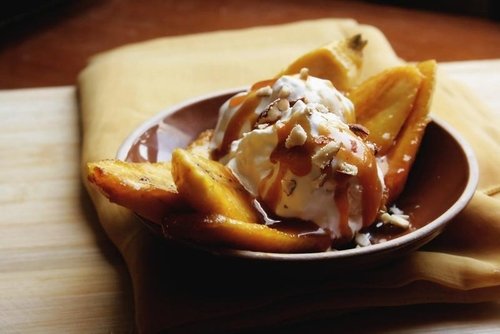 In a large skillet, heat 2 tablespoons butter, 1/2 cup sugar (brown sugar, if available), and 1/4 cup rum over a medium flame. Cook, stirring occassionally, until smooth and bubbly for about 4-6 minutes. Add 3 bananas, peeled and halved across, to the skillet, and cook until the bananas are just warmed through, for about 1-2 minutes. Scoop vanilla ice cream into bowls, and top with the banana and caramel sauce mixture. Serve immediately.
Sauteed Peaches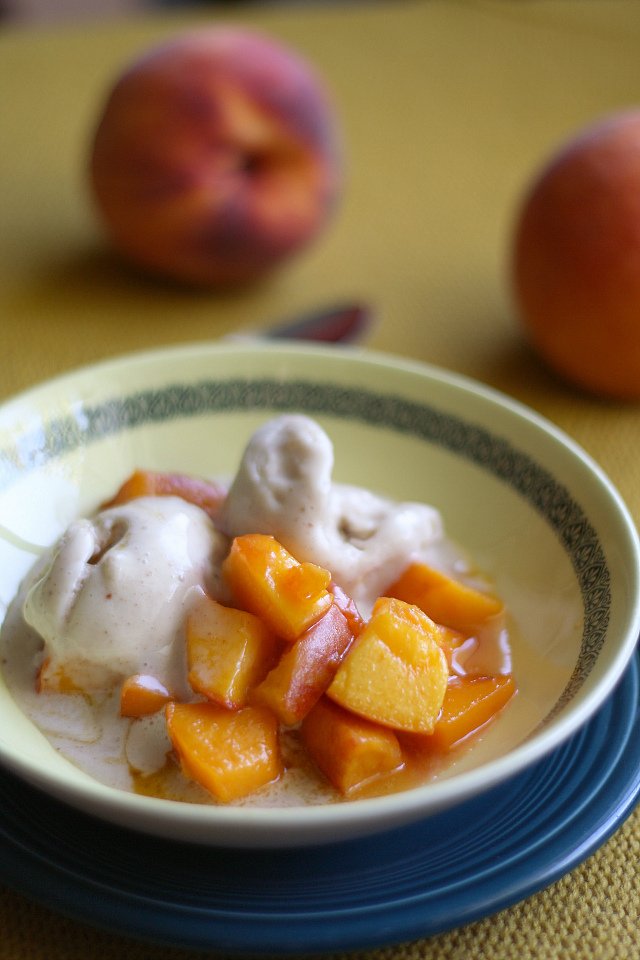 In a large skillet, melt 2 tablespoons butter over a medium flame. Stir in 4 tablespoons of sugar and add 4 large ripe peaches, which have been pitted and cut into wedges. Cook, stirring, until the sugar has dissolved and the peaches are warmed through and completely coated in the sauce, for about 2-5 minutes. Serve immediately, on its own or with a piece of sponge cake and ice cream.
Grilled Chocolate Sandwiches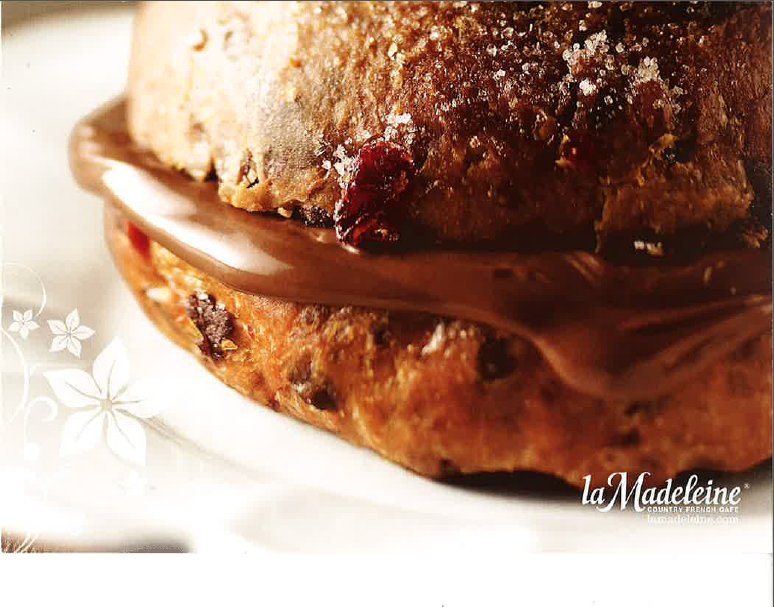 In a large shallow dish, whisk together 2 large eggs and 2 tablespoons milk and set aside. Form 2 sndwiches with 4 slices of bread and 120gm of chocolate bars by breaking the chocolate and covering the bread without spilling over the sides. Dip both sides of the sandwiches in the egg mixture and coat thoroughly. Heat 2 tablespoons butter in a large skillet over a medium flame, and transfer the sandwiches to the skillet to cook. Cook for 1-2 minutes on each side, and press occassionally with a spatula. Transfer to a plate lined with paper towels, and cut in half. Dust with castor sugar and serve warm.
Pineapple with Ginger Yoghurt Sauce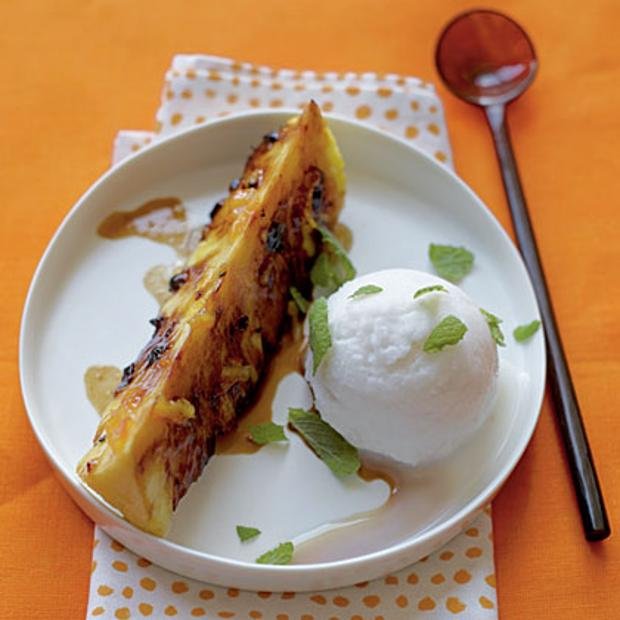 Finely grate a 1 inch piece of ginger, and press it through a sieve to release 1-2 teaspoons of juice. Discard the pulp. Add 1 cup yoghurt and 3 tablespoons honey in a bowl and mix with the ginger juice. Divide wedges of 1 pineapple into different serving bowls, top with the ginger-honey-yoghurt mix, and toasted almonds if you want.
Papaya with Coconut Lime Yoghurt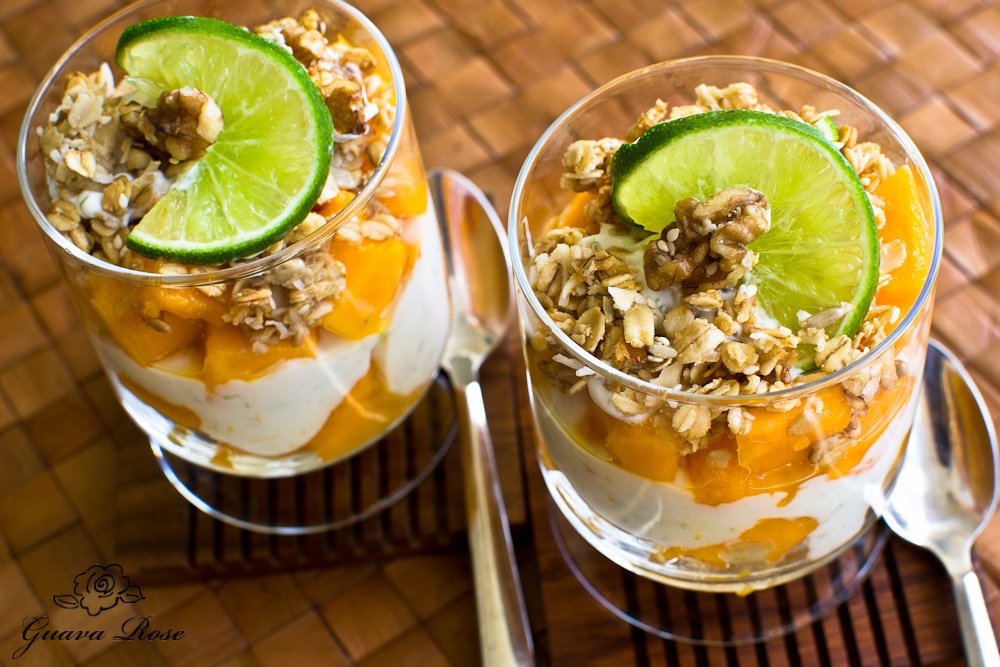 Spread 1/4 cup shredded coconut evenly at the bottom of a small skiller, and cook over a medium flame. Toss occassionally and cook for about 2 minutes, until the coconut is just golden. Let it cool completely. In a bowl, whisk together the coconut with 1 cup or 200gms yoghurt, 1 tablespoon honey, and 1 tablespoon lime juice. Slice 1 papaya into wedges and serve with the youghurt mixture and lime wedges on the side.
Cake with Orange and Honey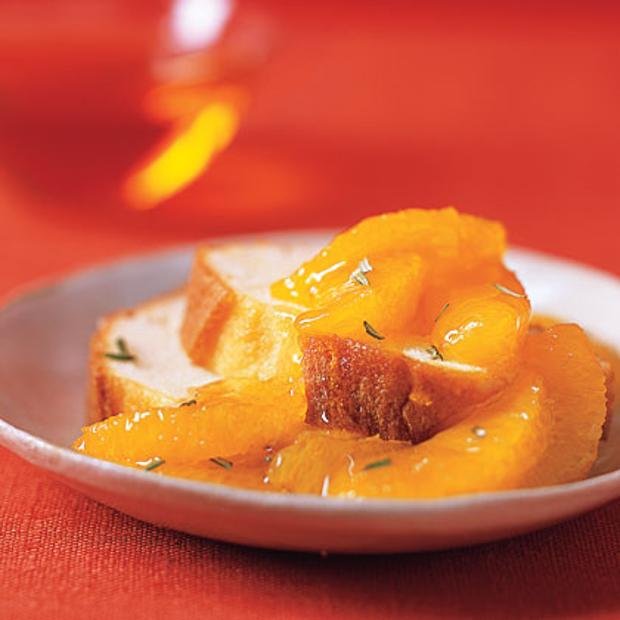 Cut 4 oranges into segments and in a bowl, gently combine them with 2 tablespoons honey. Spoon this orange-honey mixture on store bought cake slices, and serve with whipped cream.
Nutella Mug Cake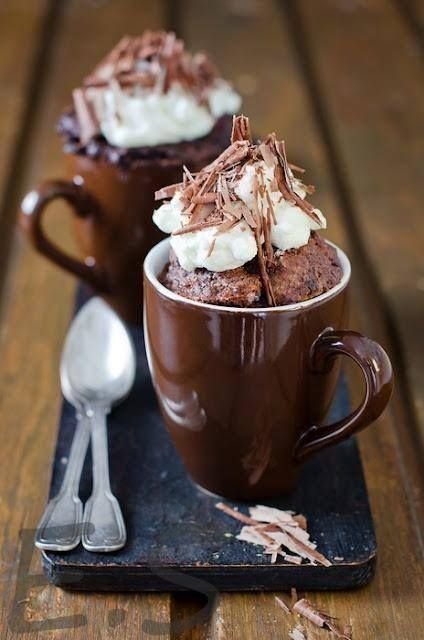 Add 4 tablespoons flour, 4 tablespoons caster sugar, 1 egg, 3 tablespoons cocoa powder, 3 tablespoons Nutella, 3 tablespoons milk, 1 teaspoon baking powder, and 3 tablespoons vegetable oil or butter in a large coffee mug. Whisk well until all the ingredients are combined and you get a smooth batter. Microwave for 60 seconds and check with a knife to see if it's done. The knife should come out clean when you pierce it. If not, turn the microwave on for another 30 seconds. Top with whipped cream or ice cream or serve on its own.
The only thing that should be worrying you now is which dessert to start on first. So, what are you waiting for?
The original version of this post can be found here. 
RELATED STORIES
Comments