Food
15 Irresistible Desi Desserts That Will Make Your Heart Sing Pakistan Zindabad!
Published: Jun 6, 2015
In Pakistan, we have an occasion for everything around us. It could be Eid, Christmas, Holi, a wedding, a pre-wedding party, an after wedding party, a baby shower, a birthday, an anniversary, a festival, a first day of work celebration, a last day of work celebration, you the get drift. The one thing you be sure to have at one of these events is… a desi desert.
Here are 15 traditional desi desserts, one of which you are bound to find at any event you go to in Pakistan. And they are irresistible.
1. Gajar ka halwa (Carrot halwa)
With the main ingredients including carrots and milk, this dessert is served warm with pistachios on top or a thick blob of cream. Deeeelicious.
2. Kheer
Kheer is the most common sweet dish in Pakistan. It mainly includes milk, rice, sugar and cardamom. The best time to have this is when its hot outside and you've just had a plate-full of spicy desi-goodness. This is the stuff.
3. Sheer Khurma
Mainly served on Eid, Sheer Khurma is a traditional sweet dish prepared a few days before or on the day of Eidul fitr. It is served on Eid day, right after the men return from their Eid prayers. Apart from the rest of the deliciousness that surrounds an Eid meal, this dessert make with dry fruits, milk and sugar, is definitely the highlight.
4. Khubani ka meetha (Dry Apricot)
Khubani ka meetha is made from dried apricots and custard. The thick sweetness of each layer of this dessert tantalises your taste buds into submission! Guaranteed.
5. Lab-e-Shireen
Lab-e-Shireen is a classic South Asian dessert that is very common at Pakistani weddings. It is made from jelly, milk, sugar, fresh cream, colourful vermicelli, pistachio and pineapple. Trust me, the ingredients may make it seem intimidating, but one bite and no one will have to ask you to take another.
6. Chane ki daal ka halwa (Gram lentil dessert)
Winter season is the best to enjoy delicious halwa, and what better halwa than the chane ki daal ka halwa. It is made from gram lentils, sugar, milk, pistachios, coconuts, cardamom and almonds, and is divine!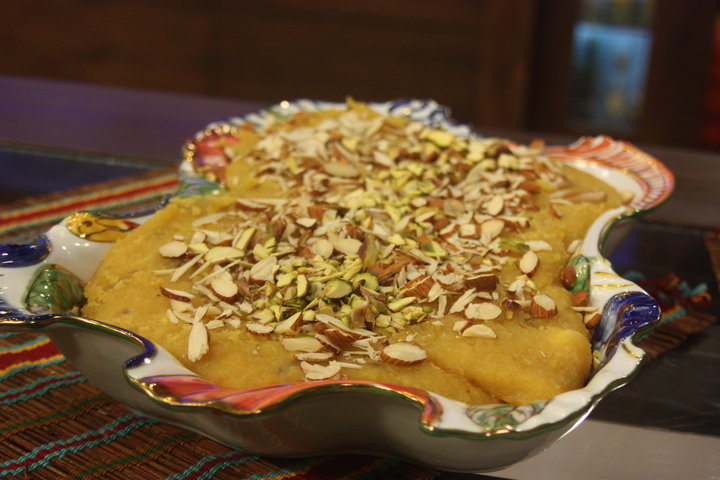 7. Zarda
Zarda is a traditional Pakistani sweet dish made from rice, yellow food colouring, milk, sugar, cardamom, raisins, pistachio and almonds. This sweet rice dish is very common at Pakistani celebrations, if you are invited to an aquiqa (at the celebration of shaving a babies head) you will find it being distributed amongst the guests. Many religious gatherings also serve Zarda as the sweet-dish. In very many places, it comes right after a large plate of biryani. We like rice okay! Stop judging.
8. Seviyan (Vermicelli)
Seviyan is made in various different varieties in Pakistan. Some of the main ingredients include milk and sugar. You can also make it separately or mix it with other sweet dishes as well (custard or icecream). It is a favourite with the kids, and is served on Eid as well.
9. Kulfi
Kulfi is a typical Pakistani ice cream that has a distinctly desi flavour. Its main ingredients include milk, sugar, cardamom and condensed or dry milk. This is the ultimate dessert – the king of Pakistani ice creams.
10. Sohan halwa
Sohan Halwa or Multani Sohan Halwa is a traditional and very famous dessert amongst Pakistanis. To make it, you boil a mixture of water, sugar, milk and cornflour until it becomes solid. It is also one of the healthiest desserts and is absolutely delightful.
11. Jalebi
Jalebi, or jellybeans as my foreign friends fondly refer to it, is a traditional sweet dish you can easily get, especially in Ramazan. Made from wheat, sugar, yeast, soda, water and food colouring, this circular, crispy-on-the-outside, chewy-on-the-inside dessert will blow you away! An ultimate favourite.
12. Gulab jamun
Does this delectable little ball of heavenly goodness need an introduction? If served warm, they melt in your mouth leaving you with sensations of happiness a pay-raise wouldn't be able to beat!
13. Ras Malai
White balls of spongy cottage cheese, soaked in sweetened milk and garnished with almond and pistachio is a little bit of heaven on earth. Its ingredients include milk, egg, baking powder, dry milk and ghee.
14. Rabri
This rich creamy bowl of goodness is a combination of milk, khoya, sugar, pistachio, cardamom and saffron. My mouth is watering already…
15. Suji ka halwa (Semolina desserts )
Suji ka halwa is mainly made with semolina, milk and eggs. It is served with nan and puri on special religious occasions in Pakistan and is the darling of desi breakfasts.
These desserts are must-tries for all of you who haven't had the pleasure of tasting them. And for those of you who have, if you aren't drooling already, you need a check up.
RELATED STORIES
Comments