News
Another Earthquake Hits Nepal: Will Help Ever Come?
Published: May 12, 2015
Only 17 days after a catastrophic earthquake hit Nepal, killing more than 8,000 people and injuring over 17,000, the devastated country was hit yet again by a second earthquake today on May 12, 2015.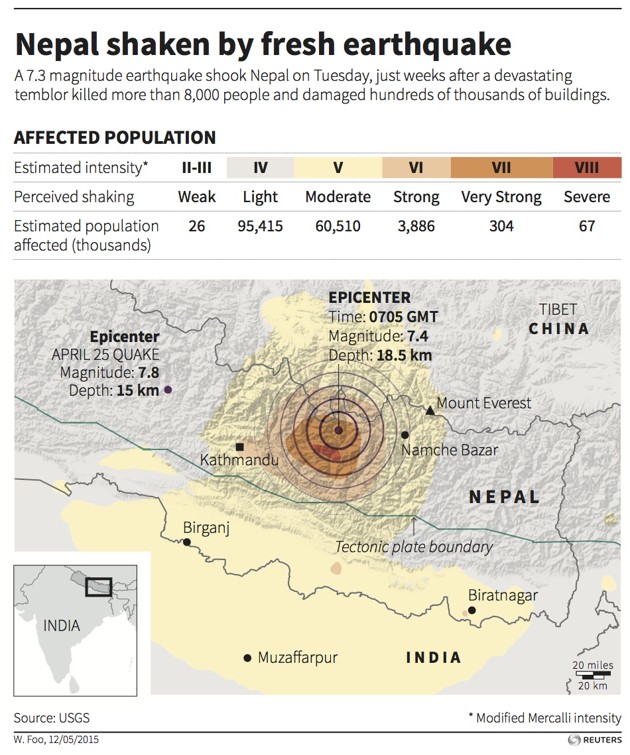 The earthquake was said to be of 7.3 magnitude and struck the base of Mount Everest, 83 km from the Capital Kathmandu. When the earthquake struck people ran out into the streets.
BBC's Yogita Limaye who was in Nepal said,
"The earth shook and it shook for a pretty long time."

"I can completely understand the sense of panic. We have been seeing tremors: it's been two and a half weeks since the first quake."

"But this one really felt like it went on for a really long time. People have been terrified."
Hundreds of people running of out of Kathmandu airport. Scary shaking from aftershock #NepalQuake pic.twitter.com/XiIdB0BCCS

— Jack Board (@JackBoard) May 12, 2015
The Nepalese Police advised the public to stay in open fields, keep roads free and suggested texting by phone in order not to overload the phone network.
"We are not out of the emergency situation yet," said Leszek Barczak, public information officer for the OCHA.
"Some 500,000 to 600,000 families have lost their homes in the two earthquakes. Shelter is the minimum for the people to get on with their lives."
According to the UN Office for the Coordination of Humanitarian Affairs, only 14% of the humanitarian aid sought by the United Nations for the relief effort in Nepal has been met, reported the CNN. That means only $59 million has been committed, of the $423 million requested, since the first quake struck last month.
RELATED STORIES
Comments